Why not add your business today!
You can get in touch with us by clicking here
Major Partners
Voice of the Martyrs
SERVING PERSECUTED CHRISTIANS WITH PRACTICAL AND SPIRITUAL ASSISTANCE AND LEADING CHRISTIANS IN THE FREE WORLD INTO FELLOWSHIP WITH PERSECUTED BELIEVERS.
68 Countries
VOM International Works in 68 Countries
Bibles
In 2019 VOM Australia provided Bibles in Iran, China, India, Brunei, Egypt, Philippines and Vietnam
2,000+ Projects
More than 2,000 Projects Undertaken Each Year
3,000 Christmas Care Packs
Distributed by VOM Australia in 2019
Feed the Hungry
Feed The Hungry is an evangelical Christian humanitarian organization committed to fighting hunger due to poverty, war, famine, and natural disasters.
Today over 300,000 children in 20 countries receive a hot and nutritious meal everyday in a school environment through the "Full Life" feeding program.
Meals at school encourage an education which assists escape from the poverty cycle and greatly reduces the burden of provision of families. Usually the best meal, and often the only meal, fortified rice meals are designed to give young children all the nutrition their growing bodies need.
When you give to Feed The Hungry, you're doing more than just giving food. You're giving a brand-new hope and the promise of a future.
Because, through nourishing meals, an education, and the opportunity to know Jesus, when you put it all together, it means one thing. You're providing thousands of the world's hungriest children the chance to live a full life. And to know that, feels good.
Everyone deserves a full life, because it feels good.
More than a meal, we're giving them a future.
Wollongong Surf Leisure Resort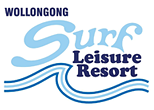 Stay on the waters edge at our beautiful surf beach accommodation in Wollongong on the South Coast of New South Wales. We are just over one hours drive from Sydney's CBD, less from the airport and only 40 minutes from Sutherland.
We have a large range of accommodation suitable for families, couples, individuals and groups – our accommodation includes holiday apartments, bungalows, cabins and grassed caravan and camping powered sites and non-powered sites.
We have 500 beds in self contained accommodation + conferencing & catering on site,
so enquire now for comfortable and affordable group stays and conferences.
Enjoy the beaches, with surf life saver patrolled beaches close by, and crystal clear surf where you can catch the perfect wave.
Wollongong Surf Leisure Resort is a proud member of G'day Parks.